US Coast Guard Inspected & Certified for Safety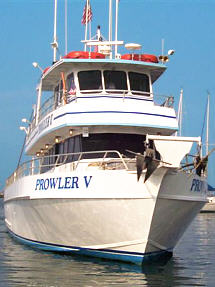 The Prowler 5
is a 80 foot super cruiser, and is SUPER FAST
to the fishing grounds.
All Trips Include:
Comfortable Fishing

We supply the Bait

Comfortable & stable ride

Helpful assistance from the crew

Optional Biggest Fish Pool
More Features:
Blues

Chum Blues - Albacore - Bonito

TIRED OF GOING ON CHARTER BOATS AND OTHER PARTY BOATS THAT JUST PUT OUT ONE ANCHOR AND ALL YOU DO THE WHOLE TRIP IS SWING AND GET TANGLED UP WITH ALL THE OTHER CUSTOMERS?

Well not on the Prowler 5. The Prowler 5 will put out double anchors on most trips. Capt. Scott puts two anchors out with precision, this way the boat will be over the structure and you will not move. You'll have less tangles and be able to catch more fish. The Prowler 5 has over 63 years of experience fishing for bluefish, albacore and bonito using fresh bunker as bait. The Prowler 5 has been Magic Hour Fishing 3:30 pm to 9:00 pm for the last 34 years. If you get tired of catching Blues there is always a good chance you can catch some Sea Bass and Porgies off the bottom (when in season). The Prowler 5 is a rocket ship to the fishing grounds and is always the first boat on the 3:30 trips to reach the fishing grounds. For instance, the Prowler 5 can make it to 17 fathoms in 30-40 minutes. Remember, less time riding, more time fishing.
| | |
| --- | --- |
| | |
| | |


THE 80' PROWLER 5
IS FISHING EVERY DAY 8:00AM TO 2:30PM FOR FLUKE AND EVERY SATURDAY AFTERNOON 3:30PM UNTIL 8:30PM, TWILIGHT TRIP SPECIAL. ALL BAIT SUPPLIED.
HEATED HANDRAILS
HEATED CABIN
ABSOLUTELY THE BEST DECKHANDS TO HELP YOU

FREE PARKING
CLEANEST LADY'S ROOM ON THE EAST COAST - IMMACULATE
BRAND NEW KITCHEN GALLEY 2018 SEASON
PROFESSIONAL CHEF MIKE'S MENU
COFFEE $1.00
SNACKS $1.00
BUTTERED HARD ROLL $2.00
EGG N CHEESE ON ROLL $4.00
EGG W/MEAT $5.00
CHOICE OF PORK ROLL OR BACON
HOMEMADE MEATBALL PARM $6.00
GRILLED CHEESE W/BACON $5.00
CHEESESTEAK W/FRIED ONIONS $6.00
CHEESEBURGERS $5.00
PIZZA $3.00
SABRETT HOT DOGS 2/$5.00
SODA, WATER $2.00
WE ADDED THE BIG LUGGERS - MORE POWER, MORE TORQUE, MORE SPEED.

WE HAVE RECENTLY ADDED A PORCH TO THE PROWLER 5. THERE IS NOW MUCH MORE ROOM TO FISH IN THE STERN.
LIKE OTHER PARTY BOATS, THE PROWLER 5 IS AN OPEN BOAT, NO RESERVATIONS NEEDED

$60 FOR ADULTS
$55 FOR SENIORS
$35 FOR KIDS
$5 ROD RENTAL
$5 Off For Police Officers & Veterans
Senior Special Every Monday $45
Bottom Rigs $2.00
Special Fluke Rigs
Sinkers 25 cents per oz.
Group Discount $5 Off Per Person (5 or more)

Gift Certificates Available

Make check payable to PROWLER CHARTER FISHING and mail to
61 Leonard Ave.
Atlantic Highlands, NJ 07716
(include return address)