US Coast Guard Inspected & Certified for Safety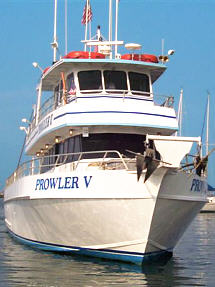 The Prowler 5
is a 80 foot super cruiser, and is SUPER FAST
to the fishing grounds.
All Trips Include:
Comfortable Fishing

We supply the Bait

Comfortable & stable ride

Helpful assistance from the crew

Optional Biggest Fish Pool
More Features:
Fluke

The Fluke Capital of the World

When Fluking you are always in calm sheltered waters Even if it's a windy day, there is always a safe place to fish. The Prowler has been landing doormat fluke for over 41 years. Fun in the sun. This is a great trip to bring kids and faminly on. Fluke is an excellent eating fish too. The dekhands will net and fillet your fish professionally. You are drifting for Fluke using squid, sand eels, speering and you are allowed to bring live killies for bait. It doesn't matter where you fish on the boat becuase you are drifting both sides of the boat. So anyone can catch the big doormat at any time. Last year's biggest Fluke was boated by Dottie Cuva of the Atlantic Highlands which weighed in at 12 1/4 lbs. Remember there's a season on Fluke , it starts sometime in May and ends in mid October. So come out and enjoy this trip with your family. The Prowler 5 knows where the Fluke hide and is not afraid to take the ride. For instance, if there's good Fluking off Long Island or Rockaway, the Prowler 5 has the speed to go to these places where the Fluke are. THis is a great trip for the first time fisherman.

12.4 lbs.

Caught by Alfonso Toxtli of Clifton, NJ at Ambrose Channel

Saturday July 28th 2018


THE 80' PROWLER 5
2023
SAILING FOR STRIPED BASS DAILY
7:30 am to 2:30 pm
BAIT, JIGS, SHADS, FRESH CLAMS
IF NEEDED
FARE $90
OPEN BOAT

2023 NEW FLUKE LAWS
2 at 17 inches
1 at 18 inches
FLUKE FARES $90

ROD RENTAL $5
DAILY POOL $5
TEXT OR CALL ME
FOR INFORMATION
732-245-6514

Sorry, credit cards
NOT accepted

ABSOLUTELY THE BEST
DECKHANDS TO HELP YOU
HEATED HANDRAILS AND HEATED CABIN FOR YOUR COMFORT

CLEANEST LADY'S ROOM
ON THE EAST COAST - IMMACULATE

WE ADDED THE BIG LUGGERS - MORE POWER, MORE TORQUE, MORE SPEED.

WE HAVE RECENTLY ADDED A PORCH TO THE PROWLER 5. THERE IS NOW MUCH MORE ROOM TO FISH IN THE STERN.
LIKE OTHER PARTY BOATS, THE PROWLER 5 IS AN OPEN BOAT, NO RESERVATIONS NEEDED FOR FLUKE TRIPS



FLUKE FARE $90

$5 ROD RENTAL
Bottom Rigs $2.00
Special Fluke Rigs
Sinkers 25 cents per oz.
Gift Certificates Available

Make check payable to PROWLER CHARTER FISHING and mail to
61 Leonard Ave.
Atlantic Highlands, NJ 07716
(include return address)