US Coast Guard Inspected & Certified for Safety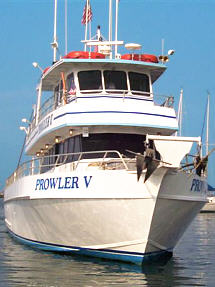 The Prowler 5
is a 80 foot super cruiser, and is SUPER FAST
to the fishing grounds.
All Trips Include:
Comfortable Fishing

We supply the Bait

Comfortable & stable ride

Helpful assistance from the crew

Optional Biggest Fish Pool
More Features:
Deep Sea Fishing Trips
Capt. Scott Hilliard
docked at the
Municipal Harbor
Atlantic Highlands, NJ 07716

Call Prowler 5

Phone

(732) 245-6514

Email
Capt. Scott

BEST WAY TO GET IN TOUCH WITH CAPT. SCOTT IS TO TEXT HIS CELL 732-245-6514

"Hilliard Family Heritage"



There have been some changes on Party Boat row. However, the Prowler V is still the newest, the largest and fastest to the fishing grounds and also the cleanest. So come on down and bring your family for a fun day on the water. Less time riding, more time fishing. We have a galley on board for your convenience. Fishing rods are available and all bait is supplied. We look forward to having you on board. P.S. We absolutely have the best crew on the dock to take care of you.
Capt. Scott

2 Generations of Captains
left to right...Captain Scott Hilliard
Captain Al Hilliard (RIP 9/9/2017) and Captain Glenn Hilliard (RIP 10/3/65 - 3/12/17).

Introducing the Next Prowler Captain in The Hilliard Heritage....Grace Ellen Hilliard


THE 80' PROWLER 5
2023
SAILING FOR STRIPED BASS DAILY
7:30 am to 2:30 pm
BAIT, JIGS, SHADS, FRESH CLAMS
IF NEEDED
FARE $90
OPEN BOAT

2023 NEW FLUKE LAWS
2 at 17 inches
1 at 18 inches
FLUKE FARES $90

ROD RENTAL $5
DAILY POOL $5
TEXT OR CALL ME
FOR INFORMATION
732-245-6514

Sorry, credit cards
NOT accepted

ABSOLUTELY THE BEST
DECKHANDS TO HELP YOU
HEATED HANDRAILS AND HEATED CABIN FOR YOUR COMFORT

CLEANEST LADY'S ROOM
ON THE EAST COAST - IMMACULATE

WE ADDED THE BIG LUGGERS - MORE POWER, MORE TORQUE, MORE SPEED.

WE HAVE RECENTLY ADDED A PORCH TO THE PROWLER 5. THERE IS NOW MUCH MORE ROOM TO FISH IN THE STERN.
LIKE OTHER PARTY BOATS, THE PROWLER 5 IS AN OPEN BOAT, NO RESERVATIONS NEEDED FOR FLUKE TRIPS



FLUKE FARE $90

$5 ROD RENTAL
Bottom Rigs $2.00
Special Fluke Rigs
Sinkers 25 cents per oz.
Gift Certificates Available

Make check payable to PROWLER CHARTER FISHING and mail to
61 Leonard Ave.
Atlantic Highlands, NJ 07716
(include return address)