US Coast Guard Inspected & Certified for Safety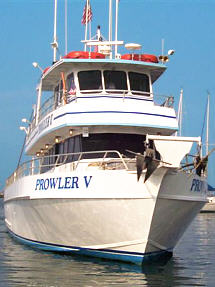 The Prowler 5
is a 80 foot super cruiser, and is SUPER FAST
to the fishing grounds.
All Trips Include:
Comfortable Fishing

We supply the Bait

Comfortable & stable ride

Helpful assistance from the crew

Optional Biggest Fish Pool
More Features:
Take a Trip on the Prowler 5
Schedule
The months are an approximation based on a typical year.

NO Reservations Required, We sail OPEN every day

Reservations only required on CANYON TUNA TRIPS




Chart Key
Scheduled Trip
Reservations Only

Trip
Jan
Feb
Mar
Apr
May
Jun
Jul
Aug
Sep
Oct
Nov
Dec
Striped Bass
Fluke
Striped Bass & Bluefish
Bottom Fishing
Tuna
Fireworks Cruise
July 4th

Trip Details
Trip
Dates
Day
Leaves
Arrives
Blackfish, Ling, Seabass & Cod
July 10th - Sept.
until
Fluke
May(Season) - Oct
Every Day
7:30 am.
until
2:30 p.m.
Fluke
May(Season) - Oct
Fri., Sat. Sun.
until
Chum Blues
Spring Stripers
Fall Stripers
Tuna

Take a Tuna Trip on the Prowler 5
Tuna Schedule


Fare ____
(____ deposit required)
___ rental for quality stand-up rod & reel
Galley Tickets also available
Stop by the boat or call to make arrangements.

Mail your Deposit:
____ Money Order
Prowler 5
PO Box 224
Atlantic Highlands, NJ
07716

Tuna Schedule
Click link for downloadable schedule

Prowler 5 -

Fare is ____. Rod Rentals are ___. Deposit ____ REQ.

What to Bring


It's a good idea to sharpen your hooks with a file

Make sure the line on your reels is in good condition and not frayed or twisted

Pack a lunch & snacks if you like, but we have a FULL GALLEY with hot & cold food with beverages

Bring some line snippers and some needlenose pliers.

A walkman with personal headphones for listening to music

Bring a plastic garbage bag to keep your stuff clean & dry

All Trips

Sunscreen, Sunglasses
Rain gear - a MUST, be prepared and don't get caught standing in the rain
Hat, Clean T-Shirt, Jacket & Gloves - we have Prowler 5 Ball Caps & T-Shirts for sale onboard
Rag for your hands
Camera, Film & Batteries - share the memories with your family & friends
Deck of Cards, Magazine or Book - pass the time while we are underway

Inshore Trips

1 Rod & Reel (also available onboard for rental) - we recommend stand up outfits in the 30 lb class with 3/0 reels & 30 lb test.
Terminal Tackle(moderately priced onboard) - Chum & regular hooks 4/0 to 6/0, 30 lb swivels

Offshore & Tuna Trips

1 Rod & Reel (also available onboard for rental) - we recommend stand up outfits in the 50 lb to 80 lb class with 6/0 reels & 80 lb test.
Terminal Tackle(moderately priced onboard) - Hooks 7/0 to 9/0, 80 lb swivels, leader material from 60 to 100 lb test, flourocarbon recommended
Sleeping bags, Blanket and a Pillow - recommended should you want to take a nap on the ride in or out to the canyon.

What NOT to Bring

NO Illegal Drugs - we have a ZERO tolerance and enforce maritime law for the possesion or use of illicit drugs
NO Hard Liquor - A few cans of Beer OK, must be 21 or over


THE 80' PROWLER 5
2023
SAILING FOR STRIPED BASS DAILY
7:30 am to 2:30 pm
BAIT, JIGS, SHADS, FRESH CLAMS
IF NEEDED
FARE $90
OPEN BOAT

2023 NEW FLUKE LAWS
2 at 17 inches
1 at 18 inches
FLUKE FARES $90

ROD RENTAL $5
DAILY POOL $5
TEXT OR CALL ME
FOR INFORMATION
732-245-6514

Sorry, credit cards
NOT accepted

ABSOLUTELY THE BEST
DECKHANDS TO HELP YOU
HEATED HANDRAILS AND HEATED CABIN FOR YOUR COMFORT

CLEANEST LADY'S ROOM
ON THE EAST COAST - IMMACULATE

WE ADDED THE BIG LUGGERS - MORE POWER, MORE TORQUE, MORE SPEED.

WE HAVE RECENTLY ADDED A PORCH TO THE PROWLER 5. THERE IS NOW MUCH MORE ROOM TO FISH IN THE STERN.
LIKE OTHER PARTY BOATS, THE PROWLER 5 IS AN OPEN BOAT, NO RESERVATIONS NEEDED FOR FLUKE TRIPS



FLUKE FARE $90

$5 ROD RENTAL
Bottom Rigs $2.00
Special Fluke Rigs
Sinkers 25 cents per oz.
Gift Certificates Available

Make check payable to PROWLER CHARTER FISHING and mail to
61 Leonard Ave.
Atlantic Highlands, NJ 07716
(include return address)