US Coast Guard Inspected & Certified for Safety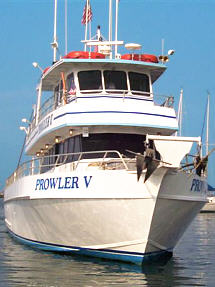 The Prowler 5
is a 80 foot super cruiser, and is SUPER FAST
to the fishing grounds.
All Trips Include:
Comfortable Fishing

We supply the Bait

Comfortable & stable ride

Helpful assistance from the crew

Optional Biggest Fish Pool
More Features:
BLACKFISH MARATHON
7:30AM - 4:30PM
EVERY TUESDAY & FRIDAY
WHEN BLACKFISH SEASON STARTS
EVERY MONDAY SENIOR FARE $45


THE 80' PROWLER 5
IS FISHING EVERY DAY 8:00AM TO 2:30PM FOR FLUKE AND EVERY SATURDAY AFTERNOON 3:30PM UNTIL 8:30PM, TWILIGHT TRIP SPECIAL. ALL BAIT SUPPLIED.
HEATED HANDRAILS
HEATED CABIN
ABSOLUTELY THE BEST DECKHANDS TO HELP YOU

FREE PARKING
CLEANEST LADY'S ROOM ON THE EAST COAST - IMMACULATE
BRAND NEW KITCHEN GALLEY 2018 SEASON
PROFESSIONAL CHEF MIKE'S MENU
COFFEE $1.00
SNACKS $1.00
BUTTERED HARD ROLL $2.00
EGG N CHEESE ON ROLL $4.00
EGG W/MEAT $5.00
CHOICE OF PORK ROLL OR BACON
HOMEMADE MEATBALL PARM $6.00
GRILLED CHEESE W/BACON $5.00
CHEESESTEAK W/FRIED ONIONS $6.00
CHEESEBURGERS $5.00
PIZZA $3.00
SABRETT HOT DOGS 2/$5.00
SODA, WATER $2.00
WE ADDED THE BIG LUGGERS - MORE POWER, MORE TORQUE, MORE SPEED.

WE HAVE RECENTLY ADDED A PORCH TO THE PROWLER 5. THERE IS NOW MUCH MORE ROOM TO FISH IN THE STERN.
LIKE OTHER PARTY BOATS, THE PROWLER 5 IS AN OPEN BOAT, NO RESERVATIONS NEEDED

$60 FOR ADULTS
$55 FOR SENIORS
$35 FOR KIDS
$5 ROD RENTAL
$5 Off For Police Officers & Veterans
Senior Special Every Monday $45
Bottom Rigs $2.00
Special Fluke Rigs
Sinkers 25 cents per oz.
Group Discount $5 Off Per Person (5 or more)

Gift Certificates Available

Make check payable to PROWLER CHARTER FISHING and mail to
61 Leonard Ave.
Atlantic Highlands, NJ 07716
(include return address)