US Coast Guard Inspected & Certified for Safety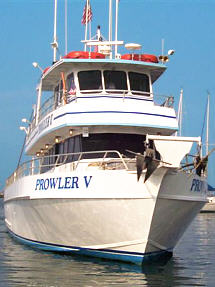 The Prowler 5
is a 80 foot super cruiser, and is SUPER FAST
to the fishing grounds.
All Trips Include:
Comfortable Fishing

We supply the Bait

Comfortable & stable ride

Helpful assistance from the crew

Optional Biggest Fish Pool
More Features:
THE PROWLER 5 WILL NOT BE SAILING FOR TUNA IN 2016


Every year we gear up to go Tuna fishing. Yellow Fin, Long Fin, Big Eye Tuna and Swordfish school up on the Continental Shelf and the offshore canyons in the warn waters of the Atlantic Gulf Stream. The Prowler 5 will run offshore trips this year in September. The Prowler 5 is one of the fastest boats in NJ to the Hudson Canyon. Scott and Glenn are the two captains on the offshore trips. Brian and Rob are the Prowler 5's experienced offshore deckhands. They are both professionals and will help you catch Yellow Fin, Long Fin, Big Eye, Bluefin,Mahi-Mahi, and Swordfish. Sal is our chef and will server you a hot breakfast. The Prowler 5 is fully equipped with everything you need for a successful Tuna trip. We offer 6/0 standup rods, galley, large cabin and we have large fish and ice holds. We tag your fish and professionally bleed, collar and ice your catch. Everything you catch is yours to keep. Fillet services are available by the mates at the dock for a fee. No hard liquor is allowed. No beer may be consumed until the ride home. We have all the necessary hooks, leaders, swivels, and sinkers on board. Things to bring on your Tuna trip: lunch, snacks, pillow, blanket, boots, and rain gear are important.

Tuna Schedule

All Tuna trips are limit to 20 anglers


Fare ____
(____ deposit required)
___ rental for quality stand-up rod & reel
Galley Tickets also available
Stop by the boat or call to make arrangements.

Mail your Deposit:
____ Money Order or Check
Prowler Charter Fishing Inc.
61 Leonard Avenue
Atlantic Highlands, NJ
07716

Tuna Schedule
Click link for downloadable schedule


THE 80' PROWLER 5
IS NOW CLOSED UNTIL APRIL. SEE YOU IN THE SPRING.

HEATED HANDRAILS
HEATED CABIN
ABSOLUTELY THE BEST DECKHANDS TO HELP YOU

FREE PARKING
CLEANEST LADY'S ROOM ON THE EAST COAST - IMMACULATE
BRAND NEW KITCHEN GALLEY 2016 SEASON
PROFESSIONAL CHEF MIKE'S MENU
COFFEE $1.00
SNACKS $1.00
BUTTERED HARD ROLL $2.00
EGG N CHEESE ON ROLL $4.00
EGG W/MEAT $5.00
CHOICE OF PORK ROLL OR BACON
HOMEMADE MEATBALL PARM $6.00
GRILLED CHEESE W/BACON $5.00
CHEESESTEAK W/FRIED ONIONS $6.00
CHEESEBURGERS $5.00
PIZZA $3.00
SABRETT HOT DOGS 2/$5.00
SODA, WATER $2.00
WE ADDED THE BIG LUGGERS - MORE POWER, MORE TORQUE, MORE SPEED.

WE HAVE RECENTLY ADDED A PORCH TO THE PROWLER 5. THERE IS NOW MUCH MORE ROOM TO FISH IN THE STERN.
LIKE OTHER PARTY BOATS, THE PROWLER 5 IS AN OPEN BOAT, NO RESERVATIONS NEEDED

Bottom Rigs $2.00
Special Fluke Rigs
Sinkers 25cents per oz.
Group Rates are available during the week only

Gift Certificates Available
$65 PER PERSON
make check payable to PROWLER CHARTER FISHING and mail to
61 Leonard Ave.
Atlantic Highlands, NJ 07716
(include return address)